Lease Extension Terminology
Make sense of complex legal terms by referring to our informative lease extension glossary.
During the lease extension process, you may encounter the following technical terms and legal jargon, so it's a good idea to familiarise yourself with each definition.
Collective Enfranchisement: The right for 50% or more leaseholders in a block of flats to collectively purchase the freehold of the building from their landlord.
Conveyancing: Transferring a legal title to property from one party to another. It often involves a solicitor when buying or selling a property.
Counter-notice: The Landlord's response to the initial Notice of Claim served by the Leaseholder during a lease extension or multiple Leaseholders in a collective enfranchisement.
First-tier Tribunal (Property Chamber): A part of the courts and tribunals service in the UK that settles disputes related to leasehold property and the private rent sector. They deal with numerous matters, including service charge disputes, lease variations and the determination of premiums for freehold purchase and lease extensions.
Freehold: A property title which specifies ownership of a building and the land it stands on.
Freeholder: Also referred to as a landlord, the freeholder is the outright owner of the building and the land it stands on. The freeholder is usually responsible for the upkeep of the communal areas of the building.
Ground Rent: A payment made by the leaseholder to the freeholder under the terms of a lease. The rent varies from property to property, accounting for factors like location and size.
The Leasehold Reform (Ground Rent) Act 2022 abolished ground rent on all new leases across England and Wales.
Initial Notice: A notice sent by the leaseholder in the early stages of a lease extension to inform the freeholder of the commencing lease enfranchisement. This notice conforms to the 1993 Leasehold Reform Housing and Urban Development Act.
Lease: The legal document that allows the holder to occupy a property for a set period and decreases year by year. It should include the contractual terms, such as service charges and any restrictions to which the leaseholder must agree to adhere.
Leaseholder: The owner of a property on a lease. They can typically occupy the property for 99, 125 or 999 years, although they can extend leases.
Leasehold Property: A property sold with a lease contract is known as a leasehold property. Tenants are permitted to own it for a set period.
Long Lease: A lease initially granted for more than 21 years.
Marriage Value: The increase in the property's value following the completion of the lease extension, reflecting the updated market value of the longer lease. The leaseholders' potential profit must be shared equally with the freeholder.
Premium: The sum of money that the leaseholder pays to extend their lease.
Peppercorn: In law, a 'peppercorn' represents a small cash payment. It is something of value (but low value) that you can exchange to bind a legal contract effectively.
For example, The Leasehold Reform (Ground Rent) Act 2022 meant that ground rent on new leases would never be more than a 'peppercorn', which set the rate to zero.
Professional (or Legal) Fees: The expenses for professional or legal help, such as solicitors, conveyancers and surveyors. Leaseholders must cover their freeholder's professional fees and their own.
Right of First Refusal: A right that states that the freehold of the building must be offered to the leaseholders before it's presented to a third party.
Right To Manage (RTM): A right which allows leaseholders in a block of flats to take over the management of their building as a collective.
Service Charge: A monetary contribution payable by a leaseholder to a freeholder or management company to cover repairs and maintenance for the building.
Valuation: The market value of the existing leasehold in its current condition with its current lease length and terms. An experienced surveyor should ideally determine the valuation.
Ready To Get Started?
Stress-Free
Find out how to extend your lease easily in one place
Save Money with our Fixed Fee Service
No nasty hidden costs
Nationwide
Specialist enfranchisement Surveyors and Solicitors to help you work out when to extend your lease
Peace of Mind
Exceptional customer service
For a FREE, no-obligation quotation and information on how to extend your lease:
"Thank you so much for your help. You made what at first appeared like a big daunting and expensive task, simple, easy to understand and almost fun!"
Jackie and Phil - Southampton
"Thank you for helping with our freehold. Everyone has been very helpful and friendly even our surveyor and lawyer were very friendly and got things done quickly."
Kevin - Bournemouth 
"Thank you for all your effort in helping us extending the lease. I sincerely believe you saved us a lot of time and money. Please can you offer the same service for buying a house?!"
Mark - Manchester
"Tabitha thank you and your team for all your advice and help it was much appreciated. We can't thank you all enough for making sense of our position and helping us find the solution. We couldn't recommend the LEC more highly."
Sandra and Tom - Leeds
Buying or Selling Your Property?
A property with a low lease shouldn't put you off buying it or selling it. Give one of our expert team a call today to explain how you can still begin the process and protect and maximise the property's value.
Strength In Numbers
Find out how to extend your lease in a group or with neighbours with the same freeholder to give you the best chance of negotiating the lowest possible premium and reducing the costs by up to 50%.
Our experts in lease extension work together with the other leaseholders in the block, securing a group application and coordinating and managing this group at no extra cost.
For a FREE, no-obligation lease extension consultation
Learn About What We Do
Read More About Our Costs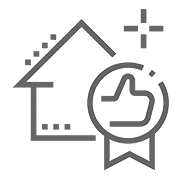 Discover How We Help
Lease Extension Calculator
Get A Quote
Hello. Wondering if you qualify for a lease extension? We'd love to hear from you.
To get your free copy of 'How To Extend Your Leasehold – The LEC Guide' and apply for a FREE, no obligation lease extension quotation inclusive of the leading specialist surveyors and solicitors costs in one money saving fixed fee. Simply fill out our contact form, send us an e-mail or call us free: