Formal Vs Informal- What's It All About?
This first post is dealing with possibly the most important decision before starting your lease extension and the route in which you decide to proceed with.
The process of extending your lease can be daunting and often it can be difficult to know how or where to start. In short there are two ways you can extend your residential lease; the informal or the formal (or statutory) lease extension. In this post we will shed some light on each route to help you identify which process is better suited to your needs.
The Informal Lease Extension Route
This process is dependent on you as the leaseholder (tenant under a lease) agreeing terms of the premium (price payable to the landlord for the extension) and length of the lease directly with the freeholder (or landlord).
Key information:
As the process is informal it is not governed by legal statute, which means as the leaseholder you have less legal protection until each parties solicitors give a legal undertaking of the terms agreed
The freeholder is in the driving seat and can make changes to the terms (small print) of the agreement or simply change their mind at any point in the process until a legal undertaking is given by the solicitors
In addition there is no legal recourse if a freeholder does not abide by the terms you initially agree under an informal agreement or the opportunity to seek one via the property tribunal in the event of a dispute
If your property is mortgaged you are legally obliged to obtain the legal approval of your mortgage lender
It can be a good option for leaseholders who have had their property for less than 2 years who cannot wait to extend their lease, as they are not eligible under the statutory route, (explained in more detail
below), or leaseholders who do not own 100% of the leasehold, or are confident of the Freeholder's intentions
The process of extending a lease on a property can appear to be long and complicated – and simply due to its name and perceived benefits an informal lease extension can appear a more attractive route , however often the very reasons an informal lease extension can appear more attractive – no need for your own valuation and lower fees as you don't need to serve a legal notice are actually the very reasons a statutory lease extension can be the better, safer option as the valuation and legal notice exist to protect your interests as the lease holder.
The Statutory Lease Extension Route
The process (also referred to as a formal lease extension) is set out within the Leasehold Reform, Housing and Urban Development Act 1993 and involves the leaseholder serving a statutory notice (under Section 42) on the freeholder to extend their lease by 90 years.
Key information:
The legal statute exists to protect your interests as a leaseholder
By undertaking a valuation of your property for the purpose of your lease extension you are protecting your interests and investment in the property – the freeholder cannot simply 'name their price'
You are legally entitled to an additional 90 years added to you existing unexpired term (from the date the S.42 statutory notice is served) with no future ground
You are legally protected at each stage of the process
Each stage of the process has an allotted time limit, to avoid unnecessary delays on the part of the landlord
Once the S.42 notice is served the term remaining on the lease is frozen meaning the premium will no longer increase as the term decreases.
You are not required to seek the approval from a mortgage company as the process is part of law
To be eligible for the statutory route, you need to have owned your property registered in their name for more than 2 years
The statutory route is often recommended by us as the best option if you have had your property for a minimum of 2 years due to the many benefits and legal protection it gives you as the leaseholder.
Our team of specialist lease extension experts and solicitors will help you identify the best route for you and your circumstances and manage the entire lease extension process from instruction to the final registration of the title with the HM Land Registry.
Working closely with you we will put together an individual Project Plan, detailing each stage, of the process, giving you a comprehensive understanding of what happens when and what it will cost. We will also ensure that there are no hidden costs or 'meter running' professional service charges, giving you the ability to plan effectively around our simplified fixed fees.
To find out more about your options for lease extensions and our other services please get in touch with us for a free, initial chat and lease extension consultation with one of our team who are ready to help you discuss the best option for you.
Tags: #LeaseholdExtension, #LeaseExtensionCompany, #LeaseExtension, #Leasehold, #Lease, #Extension, #Extend, #ResidentialLease, #PropertyLease, #Property, #UK, #Solicitors
Ready To Get Started?
Stress-Free
Find out how to extend your lease easily in one place
Save Money with our Fixed Fee Service
No nasty hidden costs
Nationwide
Specialist enfranchisement Surveyors and Solicitors to help you work out when to extend your lease
Peace of Mind
Exceptional customer service
For a FREE, no-obligation quotation and information on how to extend your lease:
"Thank you so much for your help. You made what at first appeared like a big daunting and expensive task, simple, easy to understand and almost fun!"
Jackie and Phil - Southampton
"Thank you for helping with our freehold. Everyone has been very helpful and friendly even our surveyor and lawyer were very friendly and got things done quickly."
Kevin - Bournemouth 
"Thank you for all your effort in helping us extending the lease. I sincerely believe you saved us a lot of time and money. Please can you offer the same service for buying a house?!"
Mark - Manchester
"Tabitha thank you and your team for all your advice and help it was much appreciated. We can't thank you all enough for making sense of our position and helping us find the solution. We couldn't recommend the LEC more highly."
Sandra and Tom - Leeds
Buying or Selling Your Property?
A property with a low lease shouldn't put you off buying it or selling it. Give one of our expert team a call today to explain how you can still begin the process and protect and maximise the property's value.
Strength In Numbers
Find out how to extend your lease in a group or with neighbours with the same freeholder to give you the best chance of negotiating the lowest possible premium and reducing the costs by up to 50%.
Our experts in lease extension work together with the other leaseholders in the block, securing a group application and coordinating and managing this group at no extra cost.
For a FREE, no-obligation lease extension consultation
Learn About What We Do
Read More About Our Costs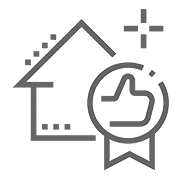 Discover How We Help
Lease Extension Calculator
Get A Quote
Hello. Wondering if you qualify for a lease extension? We'd love to hear from you.
To get your free copy of 'How To Extend Your Leasehold – The LEC Guide' and apply for a FREE, no obligation lease extension quotation inclusive of the leading specialist surveyors and solicitors costs in one money saving fixed fee. Simply fill out our contact form, send us an e-mail or call us free: