How Much Will My Lease Cost
Costs of lease extensions are often vague and confusing, making it difficult to decide whether to go ahead with the process.
At LEC, we're transforming the typical lease extension process so our clients can enjoy a simple, cost-effective service.
Let us introduce you to our all-in-one, money-saving fixed fee service.
How much does a lease extension cost?
One of our most frequently asked questions is how much a lease extension costs.
We often speak to clients keen to know the total cost of the lease extension premium up-front, the only way to determine this accurately and ensure you don't pay too much for your lease extension is via a specialist valuation for the purpose of your lease extension.
The start of the lease extension process laid out within The Leasehold Reform, Housing, and Development Act 1993, is for you as the leaseholder to undertake your own independent valuation.
The Valuation
Sometimes people perceive a specialist lease extension valuation as an additional cost and hassle, but in the right hands, this might be some of the best money you spend. Using a specialist RICS surveyor can help ensure you don't pay a penny more for your lease extension (premium) than necessary which is why we use the leading specialist surveyors to undertake valuations for our clients.
Your valuation report is valid for six months after publication. It can be easily updated after this period if required, providing you with the option of additional time if needed to consider your circumstances and/or pause the process.
The cost of your premium is determined by many variables, and specific calculations and considerations undertaken by the surveyors within their valuation reports. So, the skill and experience of the surveyor who undertakes your valuation report may well impact the price you pay for your premium. With our specialist teams, we can assure you are in the best capable hands.
Before you undertake your valuation, it is possible to estimate the cost of extending your lease by inputting your details into our Lease Extension Calculator or the Government's lease extension website.
Paying the Legal Costs and Valuation of your Freeholder
In addition to your costs, you are legally required to pay the legal costs of your freeholders' solicitors and valuation, we include an allowance for this within our quotations, and within all statutory lease extensions, these costs must be deemed 'reasonable'.
As you can see, costs can quickly accumulate, which is why at the LEC, we eliminate hidden fees and the meter running costs with our fixed fees and detailed breakdowns within your project plan.
To explore the differing costs for various scenarios and the results we achieved, visit our website's 'What We Do' page and browse through case studies of clients we've helped.
What does the fixed fee include?
From the get-go, we work closely with every client, putting together a bespoke project plan detailing each stage, legal requirement and costs so that you have a complete understanding of the process.
Once your details are confirmed, we set a fixed fee which combines the costs of our dedicated team of specialist solicitors and surveyors. Everything is taken care of, from instruction to the final title registration with the HM Land Registry, so you don't need to worry about expenses creeping up on you.
Visit our dedicated section about our fixed fee costs for more information about our service.
Book a lease extension consultation
To get the ball rolling, or find out more about our lease extension service, book a free, no-obligation appointment with our specialists and receive your free copy of 'How To Extend Your Leasehold – The LEC Guide'.
Simply fill out our contact form, email us at [email protected] or call us on 0800 098 2770.
Ready To Get Started?
Stress-Free
Find out how to extend your lease easily in one place
Save Money with our Fixed Fee Service
No nasty hidden costs
Nationwide
Specialist enfranchisement Surveyors and Solicitors to help you work out when to extend your lease
Peace of Mind
Exceptional customer service
For a FREE, no-obligation quotation and information on how to extend your lease:
"Thank you so much for your help. You made what at first appeared like a big daunting and expensive task, simple, easy to understand and almost fun!"
Jackie and Phil - Southampton
"Thank you for helping with our freehold. Everyone has been very helpful and friendly even our surveyor and lawyer were very friendly and got things done quickly."
Kevin - Bournemouth 
"Thank you for all your effort in helping us extending the lease. I sincerely believe you saved us a lot of time and money. Please can you offer the same service for buying a house?!"
Mark - Manchester
"Tabitha thank you and your team for all your advice and help it was much appreciated. We can't thank you all enough for making sense of our position and helping us find the solution. We couldn't recommend the LEC more highly."
Sandra and Tom - Leeds
Buying or Selling Your Property?
A property with a low lease shouldn't put you off buying it or selling it. Give one of our expert team a call today to explain how you can still begin the process and protect and maximise the property's value.
Strength In Numbers
Find out how to extend your lease in a group or with neighbours with the same freeholder to give you the best chance of negotiating the lowest possible premium and reducing the costs by up to 50%.
Our experts in lease extension work together with the other leaseholders in the block, securing a group application and coordinating and managing this group at no extra cost.
For a FREE, no-obligation lease extension consultation
Learn About What We Do
Read More About Our Costs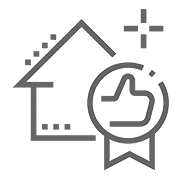 Discover How We Help
Lease Extension Calculator
Get A Quote
Hello. Wondering if you qualify for a lease extension? We'd love to hear from you.
To get your free copy of 'How To Extend Your Leasehold – The LEC Guide' and apply for a FREE, no obligation lease extension quotation inclusive of the leading specialist surveyors and solicitors costs in one money saving fixed fee. Simply fill out our contact form, send us an e-mail or call us free: