How Long Will My Lease Take?
A lease extension generally takes around three months to a year to complete. However, we can make the process quicker with our service, planning and the help of our specialist valuers and solicitors.
At the Lease Extension Company, we are well-versed in the legal obligations, nuances and deadlines involved in extending a lease. As a result, we help deliver results efficiently and within our money-saving fixed fee for our clients.
Learn more about the services we provide on our How We Help page. Otherwise, continue reading to learn how long a lease extension takes.
How long does a lease extension take?
Every lease extension is different, and so is the time it takes to complete the process using our services. We assure you that we will do everything possible to extend your lease to the highest standards quickly.
We are very proud of the results we deliver for our clients, with our average lease extension taking between five to eight months from instruction to completion. That said, we have recorded some completions in just over three months.
Here are the key stages to give you an idea of the timeline and what's happening each step of the way.
Eligibility Check
The first thing to establish is that you qualify for a lease extension.
If you have owned your property for at least two years, you have the legal right to extend the lease under The Leasehold Reform, Housing and Development Act 1993.
This act adds 90 years to your current unexpired term and reduces your ground rent to zero (peppercorn).
If you have not owned your property for two years, you can proceed with an informal lease extension (where you agree to the terms directly with your freeholder) or wait for the two years to pass. For more information, see our How to Extend Your Lease article.
The Initial Consultation
Enjoy a free, no-obligation quotation from us. We will help you choose a plan of action that provides the best value for your property and circumstances.
We can also help you determine which path to choose: the statutory (legally protected route) or the informal (direct) route.
We often recommend the statutory route to leaseholders who have owned their property for a minimum of two years, as it offers many benefits and legal protection.
The Statutory (Legally Protected) Route
The Leasehold Reform, Housing, and Development Act 1993 lays out a time frame with associated deadlines for each process stage to which both parties must adhere. This is, simply speaking, a legal requirement.
The Informal (Direct) Route
Often there is a misconception that an informal lease extension will be quicker. Whilst this can be true, it is also important to realise that there is no legal requirement or way to enforce the freeholder to act within any time frame.
An informal lease extension can often take longer than 12 months to complete or fail to complete. How quickly an informal lease extension proceeds and the success of its completion is influenced by how fast the freeholder and their solicitors respond and wish to proceed.
If your property has a mortgage, it is a legal requirement for your solicitors to ascertain the mortgage lenders' consent. Often mortgage lenders and banks can take weeks or even months to provide this.
You can learn more about your lease extension options in our How to Extend Your Lease article.
A Statutory Lease Extension Key Timings
Valuation
Our RICS surveyors are the leading specialists in leasehold enfranchisement valuation. They will leave no stone unturned to ensure you receive a fair, accurate valuation of your leasehold property. Typically this is undertaken in one to two weeks.
The quality of your valuation and the supporting report will directly impact the price you pay your freeholder for the lease extension and often can negate the need for lengthy negotiations.
Serving the Section 42 Notice
The legal process begins with serving a formal legal notice to the freeholder, known as the Section 42 Notice.
Before serving the notice, our solicitors carefully research your property title and the freeholder. The draft notice is then rigorously checked by our specialist solicitors before your final approval, typically within one to two weeks of the valuation report publication.
Our teams of specialist solicitors are highly skilled in administering The Leasehold Reform, Housing and Development Act 1993. They will monitor the strict timetable your freeholder must adhere to and will protect your interests as the leaseholder.
Receipt of the Section 45 Counter Offer
The freeholder's solicitor will respond to the S42 notice with their S45 counter offer within just over two months – this is the legal acceptance of the S42 notice.
This notice will, again, be rigorously checked as part of the validation process by our specialist solicitors on your behalf.
Negotiation
If the freeholder does not accept the initial amount offered, and we believe there is a cost-benefit, our surveyors will enter into negotiations on your behalf.
They will work tirelessly to negotiate with the freeholder's valuers to achieve the best price for your premium (the cost of your lease extension).
The Leasehold Reform, Housing and Development Act 1993 requires this process to take at most six months.
Agreement of Terms
Once there's an agreement on terms, the solicitors will finalise the draft lease for your approval.
Your lease extension will move to completion (similar to purchasing a property) when the solicitors send the final money to the freeholder.
The final step is registering your new lease extension with HM Land Registry.
Involvement of the Courts
In some instances, applying to the First Tier Tribunal is necessary. However, this action is relatively rare and only undertaken if it's needed to protect your interests. In most instances, we can find a resolution before the necessity of an actual court hearing.
If a court hearing is needed, our specialist team of solicitors will handle this for you and ensure it is only a course of action undertaken in relevant circumstances.
What can you do to accelerate the lease extension process?
At the LEC, we work with you and our specialist teams of surveyors and solicitors to ensure the process runs smoothly and as quickly as possible at each stage.
We will work with you to support you through the process by providing you with an individual property project plan and simple checklists throughout the process. In addition, our client service team are always on hand to answer any question, however big or small.
Are you selling your property or helping a relative?
If you are selling your property or helping a relative, we can ensure the process is as stress-free as possible.
We hope this article helps you better understand the expected time frame of your lease extension using our specialist service.
If you're a numbers person, our 'What We Do' page contains individual case studies detailing previous clients' starting and completion dates, which may also help you gauge how long it takes to extend a lease.
Contact us by emailing [email protected] or calling 0800 098 2770 for a free consultation and quote from our team of nationwide professionals.
Ready To Get Started?
Stress-Free
Find out how to extend your lease easily in one place
Save Money with our Fixed Fee Service
No nasty hidden costs
Nationwide
Specialist enfranchisement Surveyors and Solicitors to help you work out when to extend your lease
Peace of Mind
Exceptional customer service
For a FREE, no-obligation quotation and information on how to extend your lease:
"Thank you so much for your help. You made what at first appeared like a big daunting and expensive task, simple, easy to understand and almost fun!"
Jackie and Phil - Southampton
"Thank you for helping with our freehold. Everyone has been very helpful and friendly even our surveyor and lawyer were very friendly and got things done quickly."
Kevin - Bournemouth 
"Thank you for all your effort in helping us extending the lease. I sincerely believe you saved us a lot of time and money. Please can you offer the same service for buying a house?!"
Mark - Manchester
"Tabitha thank you and your team for all your advice and help it was much appreciated. We can't thank you all enough for making sense of our position and helping us find the solution. We couldn't recommend the LEC more highly."
Sandra and Tom - Leeds
Buying or Selling Your Property?
A property with a low lease shouldn't put you off buying it or selling it. Give one of our expert team a call today to explain how you can still begin the process and protect and maximise the property's value.
Strength In Numbers
Find out how to extend your lease in a group or with neighbours with the same freeholder to give you the best chance of negotiating the lowest possible premium and reducing the costs by up to 50%.
Our experts in lease extension work together with the other leaseholders in the block, securing a group application and coordinating and managing this group at no extra cost.
For a FREE, no-obligation lease extension consultation
Learn About What We Do
Read More About Our Costs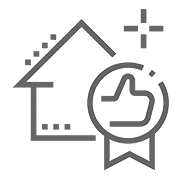 Discover How We Help
Lease Extension Calculator
Get A Quote
Hello. Wondering if you qualify for a lease extension? We'd love to hear from you.
To get your free copy of 'How To Extend Your Leasehold – The LEC Guide' and apply for a FREE, no obligation lease extension quotation inclusive of the leading specialist surveyors and solicitors costs in one money saving fixed fee. Simply fill out our contact form, send us an e-mail or call us free: